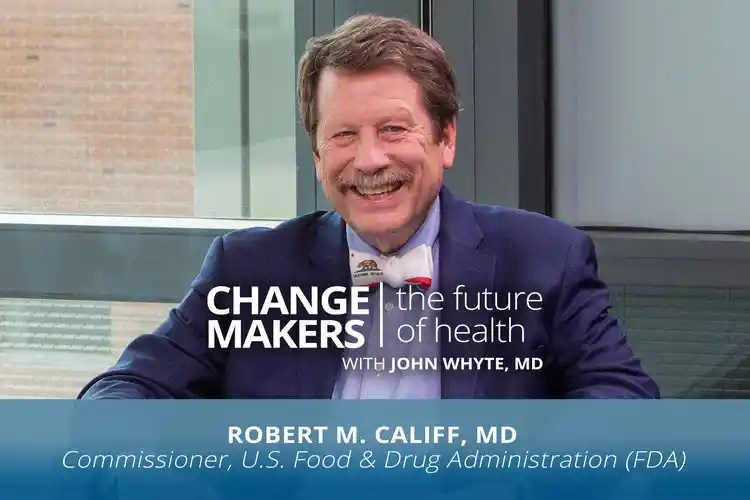 May 31, 2023 – In an exclusive sit-down interview with WebMD's John Whyte, MD, FDA Commissioner Robert M. Califf, MD, shares how artificial intelligence could transform the future of medicine, what the FDA can and cannot do about drug shortages and misinformation, and why it's an exciting time at the agency. 
"Let's talk about what everyone's talking about: artificial intelligence, digital tools, ChatGPT," said Whyte, WebMD's chief medical officer.
AI's potential depends on how it's used, Califf said. "It could be used for tremendous gain or it could be used for tremendous harm." 
Califf is "very excited" about the upside. AI may lead to new disease treatments or find information relevant to a particular patient from knowledge bases "that are just very hard for us" as humans to access and consider.
Getting too excited about AI's potential benefits is not a good thing either because "you may not see the downside," said Califf. He is familiar with the technology as a former leader of health strategy and policy for Verily, a subsidiary of Alphabet, Google's parent company. 
Mitigating Misinformation
Another reality in 2023 is some widespread health and medical misinformation. Califf has called this "a leading cause of preventable death." 
The FDA is learning more about how misinformation works and why it spreads quickly around the internet. The agency also wants to find solutions, "but I haven't found anyone who believes they have the right answer," Califf said. 
In the meantime, reacting quickly when misinformation starts circulating is important, he said, as is restoring faith in our key institutions as sources of reliable information.
Addressing Drug Shortages
Whyte asked Califf about medication shortages, using Adderall as an example. 
Many people think about the pharmaceutical industry as one thing, Califf said, but it's really two. There is an innovator industry that develops new drugs and a generic drug industry that accounts for about 90% of prescriptions. The profits made by the innovator industry get a lot of attention, he said, while the lack of profit as an incentive for generic manufacturers does not.
"This has caused a big problem. A number of generic drugs are in shortage at any given time because there's not enough profit."
Adderall is a special case because it is a controlled substance and the amount available for prescription is controlled by the Drug Enforcement Administration. There has also been a "tremendous increase in prescribing" because of virtual prescribing, Califf said.
Occasional quality issues that pause manufacturing also cause shortages of many medications. 
"We wish that we could fix all these things," Califf said. "But we don't make the medicine and we can't tell someone they must make medicines."
Enthusiasm at the Helm
Despite these challenges, Califf remains optimistic. "It's just amazing to see the progress in science and medicine."
"I'm most excited about the chance to change public health," he said. The FDA is just one player that needs to collaborate with the CDC, the National Institutes of Health, the Centers for Medicare and Medicaid Services, and the private sector. "It's really important. We got to make it work better."